Disclosure: This shop has been compensated by Collective Bias, Inc. and its advertiser. All opinions are mine alone. #PurinaMysteries #CollectiveBias
Georgie and I both love a good shopping trip, so I like to take her along with me whenever possible.
Recently we made a little trip to PetSmart to pick up some goodies for Snickers, our 15 year old kitty. He hasn't been feeling well lately, so in addition to the Purina® TIDY CATS® Litter he needed, we wanted to grab some special treats for him. It's always fun when dogs shop for cats at PetSmart!
Of course, we always find lots of amazing products at great prices when we shop at PetSmart, but this trip was especially exciting because we learned about a special Purina promotion that's happening right now.
During the month of June, PetSmart shoppers can get a $10 PetSmart gift card when they purchase $40 in Purina products. You can see a few of them pictured below; just hover over the photo to click through to the PetSmart website and place an order!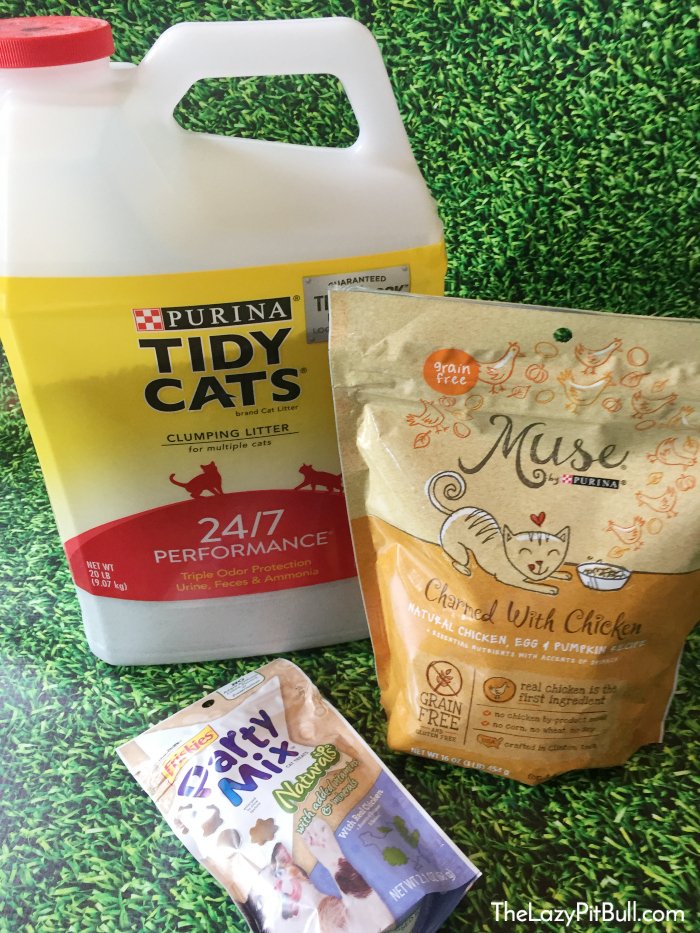 Here's how simple it is:
Spend $40 on Purina products in June, get a $10 PetSmart gift card
Upload your receipt to the redemption site; you can do this for all of your $40+ receipts for the entire month of June
A physical $10 PetSmart gift card will be mailed to you in 4-8 weeks for each $40 you spend
And the best news is, you've got until July 9th to get your receipts uploaded!
On our trip to PetSmart, we grabbed our favorite must-have cat litter. We've been using Tidy Cats for years, and we wouldn't think of using anything else.
We also picked up some Purina® Muse, which is one of Snickers' favorite foods. He loves the taste, and I love that it's grain-free and made with natural ingredients.
While on our little shopping trip, Georgie and I also picked up some treats for Snickers. He's always been a big fan of Purina® Friskies® Party Mix, and we knew he'd be happy with any (or all!) of the many different varieties.
It's easy to see that Purina offers so many different kinds of pet foods, treats, and litter, making it so easy to take the mystery out of caring for your pets.
Although this particular shopping trip was all about Snickers, Georgie and I had a great time together. She's so fun to hang out with, and she always makes friends when we're out and about. I mean, just look at that face!
We browsed around the store, and we checked out some guinea pigs that really piqued Georgie's curiosity.
And because I love her… and because she's just a little bit spoiled… I let Georgie select a new toy while we were at PetSmart. She couldn't wait to get home and play with it!
It's no mystery that this little blonde girl has stolen my heart. Having her in my life makes every day just a little bit better, and I'm blessed by her in so many ways.
Has your pet stolen your heart?
We'd love to hear all about it in a comment below, or stop by our Facebook page to join in the conversation there! Be sure to use#PurinaMysteries when you share your pet love story! And remember, upload your $40+ Petsmart June receipts through July 9th to get your $10 Petsmart gift cards!